Aesthetic Realism seminar:
Honesty--Will It Get a Man What He Really Wants?, part 2
with a discussion about Hank Greenberg
By Michael Palmer
WHAT I WAS REALLY HOPING FOR
In TRO #1443, Ellen Reiss writes "Honesty...[is] based on the feeling: 'I want to know what's not myself and be fair to it.'" Several years after graduating from college, I got a job at WCBS Radio as a sportswriter, which, by its nature, required me to "want to know what's not myself," to be interested in the facts about the athletes and events I was writing about. The few friendships I had were based solely on a person's care for sports. On my days off, aside from watching sporting events or playing golf, I didn't know what to do with myself. It was the loneliest time of my life. I thank God it was at this time that I met and began to study Aesthetic Realism, and in classes taught by the most honest, kindest man who ever lived, Eli Siegel, I learned what it meant to be honest. In an early class discussion Mr. Siegel described what had caused me so much pain. He said:
Every interest has its peril. Though it is a very good thing in itself, sports, which have a likeness to life, is not life as such. Michael Palmer would like to see the whole world as a game. The interest of Michael Palmer in sports should be looked at for a possible peril.
There was peril. Instead of being interested in people, wanting to know them, I preferred to talk about sports where I felt most comfortable, and I often used sports analogies when discussing just about anything. This was my world, narrow and specialized. Mr. Siegel asked me:
Does your interest in sports make frying an egg more interesting to you?
No, it didn't. And he said:
Using the word 'game' is very often a contempt word for life. Is life a phantasmagoria (a rapid series of things seen or imagined as in a dream) or does it bleed?
And he added with kind humor, "Coach Siegel gave [Palmer] a heart-to-heart pep talk."

Through Aesthetic Realism and criticism such as this, a new world opened up for me. I began to see the pleasure of learning about who I am and what other things are--the wide diversity of the world--through novels by Dickens and Thackaray, the poetry of Carl Sandburg and Walt Whitman. I began to be truly interested in life, in people, and I fell in love with a woman, Lynette Abel, to whom I am so grateful to be married.

THE HOPE FOR HONESTY ON AND OFF THE PLAYING FIELD

I speak now about one of baseball's greatest and most respected players, Hank Greenberg. He was the first great Jewish baseball player, leading the Detroit Tigers to four pennants in the 1930's and 40's. He also had a care for justice, and a courage in some very difficult and crucial times.

An outstanding high school and sandlot player from the Bronx, Greenberg, a first baseman, signed with Detroit in 1930, and made it to the majors three years later.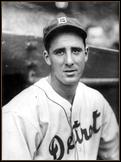 He led the Tigers to their first pennant in 25 years, hit 58 homeruns in one season, drove in an incredible 183 runs in another. In his definition of Honesty, Mr. Siegel writes, "To want to know the facts of things, and ourselves, is to think we can get pleasure by this knowing." Greenberg had tremendous pleasure as to baseball. Sportswriter Bud Shaver noted that he was "the most energetic researcher in baseball. [He's] tireless in his quest of perfection, wants to know all the answers and isn't backward about asking." But, as Mr. Siegel pointed out to me "every interest has its peril." Other things in Hank Greenberg's life were placed in the background, and this hurt him.
As he gained success as a player, he was under siege as a Jew. The 1930's was a time of intense anti-semitism. Hitler was busy in Germany, and in Detroit, it was not uncommon to see signs such as, "Jews and Dogs not welcome here." Greenberg came in for tremendous abuse from fans and from opposing players. Despite this, his desire to learn, have a good effect on his teammates and others--and the pleasure he showed doing so--made for great respect. Said one Jewish fan, "He gave us all hope. He was the epitome of everything we wanted to do."

In 1940, when asked to move from first base to a new position, left field, so the Tigers could have slugger Rudy York, who could play no other position than first, in the lineup as well, Greenberg, thinking of the team and himself, made the change and did so well that he led the Tigers to another pennant. In a lesson discussing baseball, Mr. Siegel said "The Jews got a big lift when Hank Greenberg was chosen Most Valuable Player in 1940."
Following that season, with the country preparing for war, Greenberg was drafted into the army for one year. He was released on December 5, 1941. Two days later Japan bombed Pearl Harbor, and America was at war. Greenberg had served his time. He was 30. His prime years as a player were just ahead. But he said,"I'm going back in, [the country's] in trouble and there's only one thing to do." "Honesty, Mr. Siegel wrote, "is the instinctive employment of what is, as it is, for one's desires." Greenberg was the first major leaguer to enlist after Pearl Harbor, serving mostly in the combat zone of the Pacific. He wouldn't return until June of 1945, having lost his prime baseball years. Yet, fittingly, in his first game back, he hit a homerun, and on the final day of the season, hit a 9th inning grand slam homer to give the Tigers the pennant.