John Sloan, or, Art Stands for Justice, Not Ego
In issue #1310 of The Right Of, Ellen Reiss writes:
Aesthetic Realism explains...the largest fight we have: between respect for the world and contempt for it. Our deepest desire is to like this world honestly, to respect it in all its largeness, and strangeness, and everydayness.
John Sloan showed that desire as he was growing up in Philadelphia in the 1870's and 80's. He was an avid reader, especially of Shakespeare, Dickens, and Balzac. Sloan would later say, "If you were marooned on a desert island, reading Balzac would make you a citizen of the world." At age 12, he was filling in the blank pages of his own edition of Treasure Island with watercolor illustrations of the book. He taught himself etching by studying a book on how to do it.

In 1892, at the age of 21, Sloan became an illustrator for The Philadelphia Inquirer, covering news stories--as photographers would do later--then drawing illustrations of the event from memory. During this time, he and a number of his fellow newspaper illustrators studied art at the Philadelphia Academy under the painter Robert Henri who urged them to go out on their own and paint the city scenes they had been covering. Sloan and his wife, Dolly, whom he married in 1901, eventually moved to New York City as did others who studied with Henri. I believe John Sloan's desire to depict the economic suffering of people in the city arose from what he experienced as a child. His own father had been poor, devastated by the failure of his stationary business, which forced his son to leave high school to support his family. Instead of feeling he should hate the world, the young Sloan used what occurred to have even more feeling for people as he went about the city doing free-lance illustrations. "Surely, he said once to his wife, "there's something wrong with a city and a society in which 10 percent of the people appeared to live so comfortably and 90 percent were forced to struggle so desperately." Sloan became active in the Socialist Party in 1910, feeling that "only [they] seemed to be speaking out against the national movement toward land acquisition abroad, suppression of dissent at home, and the inequitable distribution of wealth everywhere."

Sloan's painting, about Manhattan's Tenderloin District, "Sixth Avenue and 30th Street, 1907" shows his strong feeling about the unfair economic system he saw and experienced.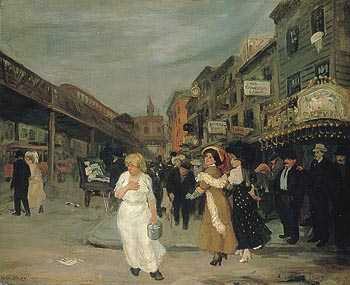 We see a middle-aged woman in the center, appearing confused, distressed, in some disarray. Passers-by seem mostly indifferent to her, except for the two better dressed younger ladies who look at her with curiosity. With her white dress, the woman has the most light in the painting and is at the center of two diagonals made by the elevated trains on the left and the houses on the right. The diagonals come to a point, over her head at the deepest, most mysterious point in the painting. Through this composition, Sloan, I feel, is asking us to think deeply about her--her mystery, her relation to others, the ugly profit economy that likely made for the distress she is in. This painting seems to be crying out for people to ask Eli Siegel's compassionate and exact question, "What does a person deserve by being a person?"

As artist, Sloan felt people in America needed to see clearly the economic brutality then going on; and in 1912, he joined the staff of the left magazine The Masses where he did powerful work such as this cover picture which shows a nervous John D. Rockefeller, owner of the Ludlow Mines in Colorado where, during a strike, a family had been machine-gunned to death by troops. Rockefeller is attempting to wash blood from his hands as the door to his hiding place is being battered down.

Biographer Van Wyck Brooks, who knew and respected Sloan, wrote of him as, "insatiably curious and deeply sympathetic." Sloan etched and painted scenes he saw from the various loft windows where he lived and worked over the years, such as "Roof, Summer Night, 1906," and "Sunday, Women Drying their Hair, 1912." Always, and especially in these situations, Sloan's motto was "draw with human kindness." In this painting, "Three A.M 1909," Sloan paints two women with that kindness and depth. He was impelled to imagine what their lives were like. He wrote in his diary:

These two girls I took to be sisters, one of whom was engaged in some occupation that brought her home about this hour of the morning.

3 A.M., 1909
On her arrival the other rose from her slumbers and prepared a meal....This picture is redolent with the atmosphere of a poor, back gaslit room. It has beauty, I'll not deny it: it must be that human life is beautiful.